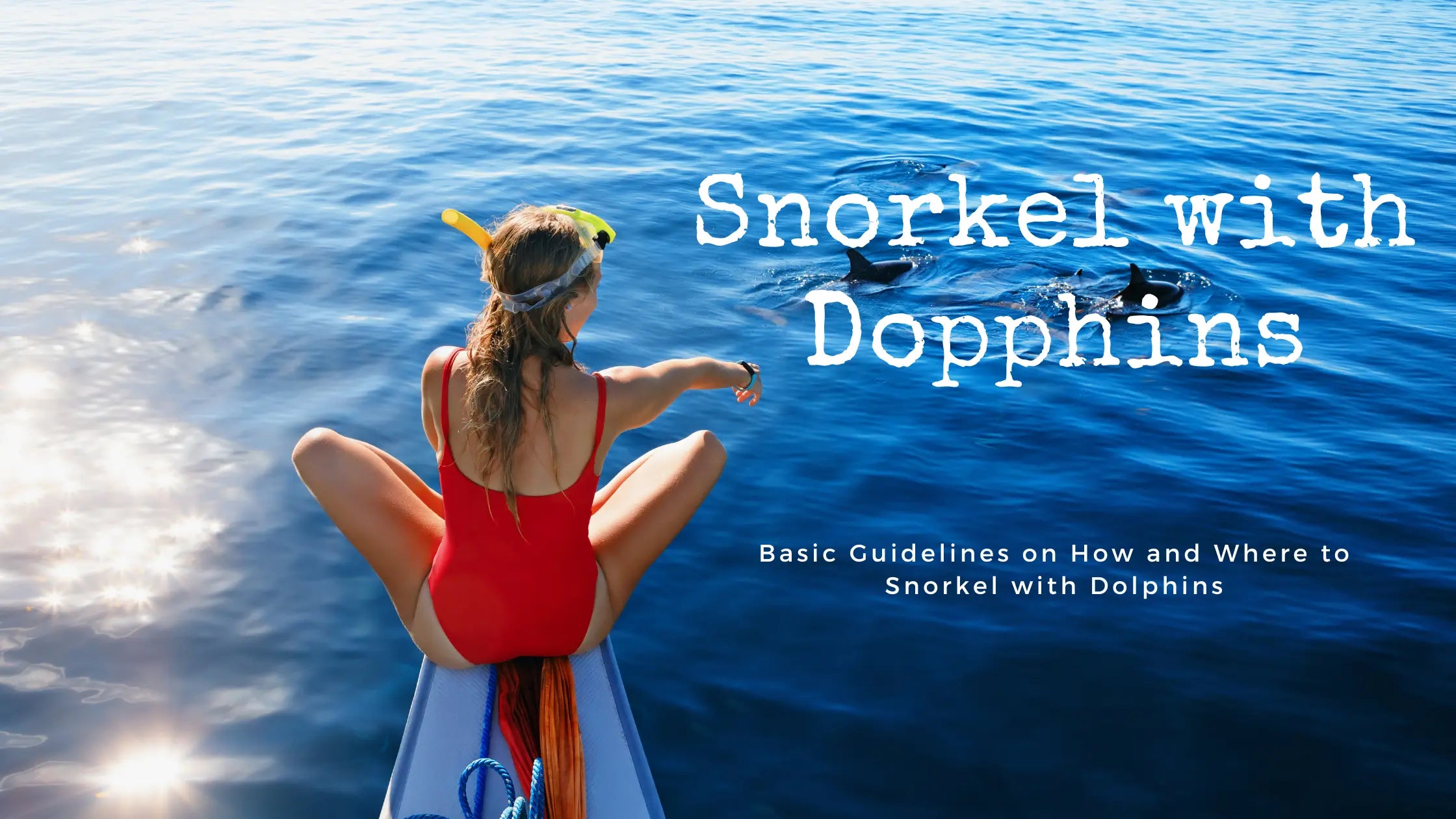 Basic Guidelines on How and Where to Snorkel with Dolphins
Snorkeling with dolphins sounds fun and more than fun; it is an unforgettable experience. And do you know what's better than this? Dolphins love to snorkel with you too.
It sounds surprising, but as much humans enjoy swimming and snorkel with dolphins, they also like it. But it is not something that could happen on its own. It all needs good planning, finding a spot where you may discover dolphins, and getting comfortable around them.
Only a few places can fulfill this dream and fewer where this option is available without a boat tour or tourist crowds.
Swimming in the ocean and swimming along with marine animals are two different things. While many sites offer a number of services during a snorkeling trip, exploring raw nature is a different type of experience.
Contrary to popular belief, people of all ages can do it, and it doesn't even require some unique skill set. But overall, it sounds so majestic that it naturally becomes one of the high-ranked activities to do during a trip. Here is are the complete details on where to go for snorkeling with dolphins.
Where to go for snorkeling with dolphins?
To everyone's surprise, there are many places where you can swim with the dolphins. Here is a list of different sites that allow the tourists to enjoy swimming with the aquatic animals.
Sites in Central America
If you are in Central American or planning a tour for Central American countries, here are a few sites where you can avail of this opportunity.
Belize- thousands of visitors come to Belize to explore its islands, which allows them to snorkel with Atlantic bottlenose dolphins for real. The sites which are open to the visitors here include
Chaa Creek, Ambergris Caye, and the Belize Barrier Reef. You can either plan an independent tour or book it through any commercial company which can make the arrangements. However, you have to bring your own snorkeling gear for this experience. The best is to trust a reputed vendor like Greatever to purchase your snorkeling gears.
The Bahamas-  The best site here to explore the majestic sea views and creatures, including dolphins, is the Bimini Islands. The wild Atlantic spotted dolphins are easy to find here. Interestingly, these types of dolphins are highly intelligent and social, so swimming with them is often risk-free. The snorkeling experience here is incomparable because the swimmer can actually touch or be near around the dolphins without scaring them or damaging himself. These dolphins are seen all year, but snorkeling is the best in the months of summer.
Costa Rica- The bluish-green waters of Isla de Cano are a real beauty, and it is easy to locate bottlenose, spinner, or spotted dolphin here in the Drake Bay. Costa Rica offers snorkeling and boating with marine life for the entire year, but if you want to explore the best places, the months between December and March are ideal for enjoying open sea snorkeling.
Sites in Egypt
Marsa Alam in the Red Sea is the hub of two world-famous dolphin sites: Samadai reef and Sataya reef. Both these habitats nourish and support the life of various types of fishes, including spinner dolphins and bottlenose dolphins. As to snorkeling, the Sataya reef is a better option than the Samadai reef because it is less rushy and occupied with tourists like other sites. The best time to discover these sites is from March to November.
Sites in Fiji
Who doesn't know about the famous Moon reef in Fiji Islands when it comes to dolphin watching? Dolphins swim around the island of Tailevu all months of the year, which makes it one of the best places to visit outside the peak vacation season. Just in case you want to experience the humpback whales and the dolphins, try coming to Kadavu island from June to October.
Snorkeling with dolphins in North America
Several sites in North America gives the best wild snorkeling opportunities with dolphins to the tourists. Starting with Key West in Florida, bottlenose dolphins are often spotted easily. In addition to this, spinner dolphins spotted dolphins, and even Risso's dolphins may also be seen occasionally while snorkeling in the reefs. One part of the Key West water is called "Dolphins' Playground," which is the hub of dolphin breeding. There are so many tour arranging companies that could take you here.
Next in line is Panama City in Florida, where bottlenose dolphins live and breed in a natural habitat. The best sites to visit in Panama are Shell Island and St Andrew Bay.
In Hawaii, the best site to experience dolphin snorkeling in Oahu. The Hawaiian spinner dolphins are commonly seen here, and it provides all commercial activities of swimming, snorkeling, and boating in the sea. But if you are only interested in snorkeling in a wild, untamed setup, the best option is Makua Beach. Here you can swim with spinner dolphins, especially in the early mornings, right after the sunrise.
Sites in Portugal
The Pico islands in Portugal are famous for their volcanic ranges and offer the memorable dolphin snorkeling experience in the wild water. It takes nearly three hours to reach these islands from the central areas in Portugal. Try to search for the weather update before coming here. The best is to visit in May till September when the sea is calm and warmer, but dolphins are around all year.
Sites in Sri Lanka
The Srilankan reefs cater to many types of dolphins, mainly spinner and bottlenose dolphins, gigantic humpback whales, sperm whales, and even the magnificent blue whales. This place is a heaven for a person who, in true terms, loves to swim with the fish in the wild. The best sites to snorkel with dolphins here are the Northwest regions, and the best time to visit them is December to April. Don't forget to pack your best snorkeling equipment. If you are searching for a reliable vendor and are short on time, try Greatever's doorstep delivery.
Is it safe to snorkel with dolphins?
A few things that people often forget are that swimming with dolphins in the sea can be dangerous for both of them, which is why it needs some planning. For the snorkeler, it is necessary to understand that the sea belongs to the marine animals, and he is the one in their territory. That's why he has to 'act' responsible and avoid touching or scrapping any marine animals. At the same time, aquatic animals can become excited to see a 'new creature' around them. Often, a dolphin can come near to a swimmer to check him out. That's why knowing the do's and don'ts of swimming in the ocean with marine animals is mandatory.
What to do if there is a dolphin around?
While it is possible to swim along with dolphins, this idea is not preferred by all snorkelers. Still, if they want to see the dolphins, there is something that they can do.
Boating in the ocean between the swimming dolphins is something that has no risks or dangers involved. But in case you spot a dolphin around, try to take care of the following things.
Maintain a distance of at least 50 years.
Limit your time spent to observe them,
Do not touch or annoy the dolphins.
Don't scare the dolphins by making a noise.
If the dolphins start to swim along with the boat, slow the boat and let them