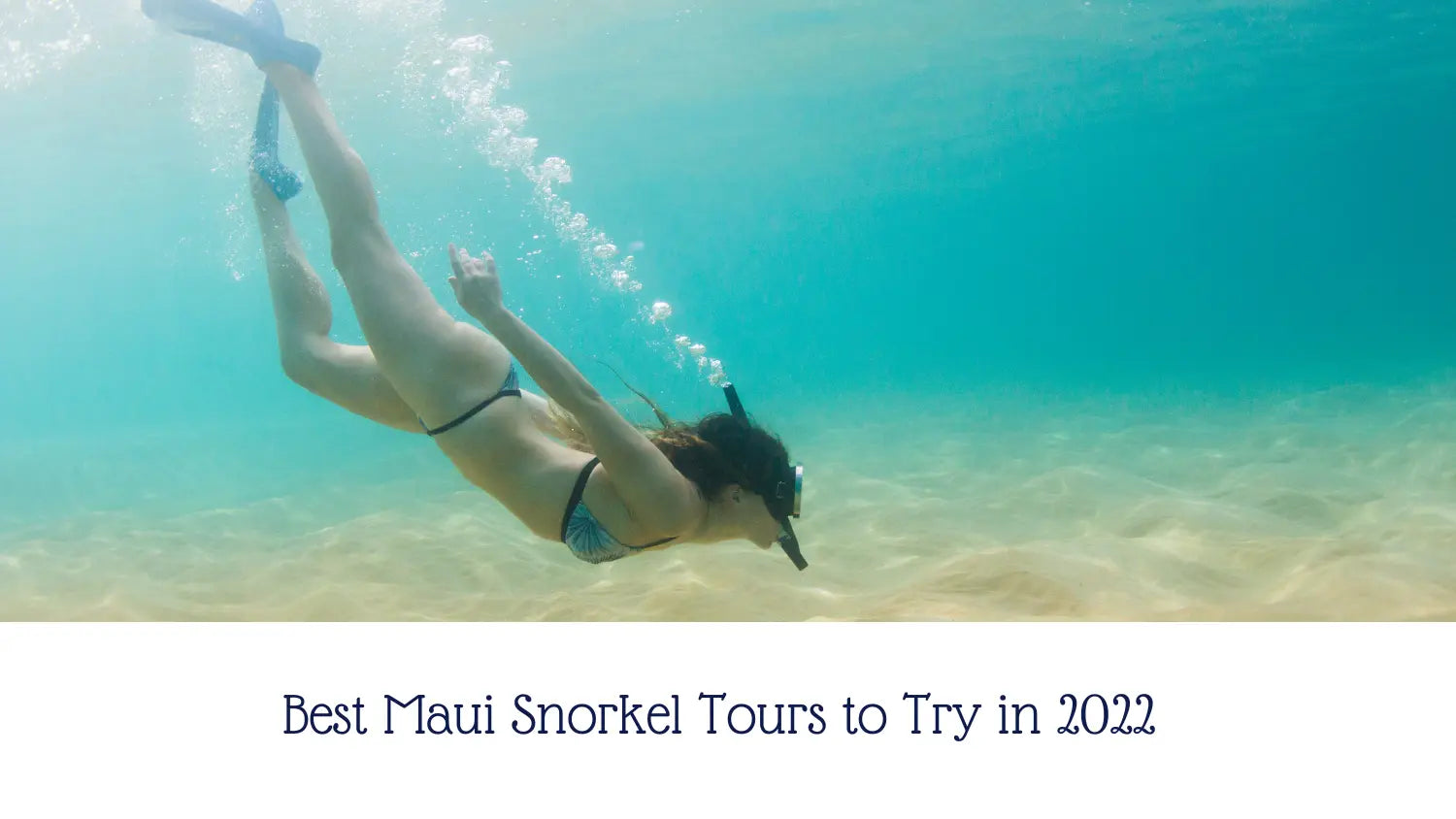 Best Maui Snorkel Tours to Try in 2022
How many of you have experienced snorkeling in Maui? If you have not done it already, let me tell you that you are missing the best holiday destination ever. I mean, who doesn't like to watch the sun rising, staring at clear blue waters and gentle ocean waves to pass you. But is this all that you could find at Maui? Well, no. There is a lot more than you can do here.
Maui is an island in Hawaii located in the north Pacific Ocean and famous for its serene views. Like me, if you are a fan of waking up to the sun rising to the horizon, it is something you shouldn't miss. It has the world's best beaches with clean and clear water, offering the amazing opportunity to snorkel here.
The information on the internet is already there, but I am going to share my personal experience while exploring Maui. Read it and decide for yourself if you want to see these places or not.
Here is my experience at my three favorite snorkeling trips to Maui.
Number#1 Molokini Wild Side Snorkel
Do you know about Molokini, or it's your first ever introduction to Maui snorkel? In either case, Molokini is going to amaze you for sure. If you ask me, the first destination to explore at Maui should be Molokini and will not be disappointed. Called as a "true paradise on Earth," Molokini is a volcanic crater, partly submerged in water, and shaped like a half-moon. As beautiful as it sounds, this islet is not just beautiful on the surface. But also, its crystal-clear waters have so much to discover. When I visited it first, a few years ago, I was told that 90% underneath this islet is still unexplored. I bet that you would have never seen coral reefs like here before.  But for that, make sure that you are using a panoramic snorkel mask.
Obviously, the best time to see all this is early morning. I was tired and jetlagged when I first came here, but trust me, the serenity of this place made me get up early in the morning, which is why I suggest everyone catch the fun while the whole world sleeps.
Pack all your necessary stuff. As for Snorkel, select a premium snorkel gear like Greatever Dry Snorkel Set. that would make your trip more special. This set makes the user enjoy a panoramic view at best. Its fog-resistant mask ensures a clearer image. Overall it allows smooth breathing and all the comfort that you might need while exploring Molokini wild side.
I would like to recommend all readers to visit this place in their best of health. If you are a good swimmer and are in good health, you would enjoy it more. People with heart problems, back or neck pain, or pregnant women might not find it safe. Also, do not take children under 7 for snorkeling here.
Number#2 West Maui Sightseeing and Snorkel
Want something more adventurous? Let me tell you about west Maui, which is a perfect snorkel site for you. Here is a pro tip based on personal experience; get up early in the morning to find parking. Since it is the most famous tourist spot, parking spaces are taken up within minutes. Once sorted out the parking spot, move to Sea Maui. Sit here, relax, and enjoy the beauty of the sea. You might also see dolphins here, and if the luck is at your side, you might see whales too. Sounds too good to be real, right?
The 360-degree unflustered view here justifies the time and money that you spent to reach here. It has two amazing snorkel sites; Lanai and West Maui. If you ask me, I found liked Lanai more because of the turquoise water, which brings tranquility to mind and body. Both these locations have famous turtles, coral reeds, and diverse species of fish. Don't forget to bring you to snorkel gears i.e., Greatever snorkel mask and Greatever snorkel fins. Well, many people would tell you that only a panoramic mask would be enough and you don't really need the fins. But let me tell you, the Greatever fins are specifically designed for snorkeling for short bursts with no compromise on speed and strength. They help you to swim better by keeping the body position intact. They are my personal favorite for snorkeling.
Words can't do them justice, and you would have to go there and practically watch this all with your eyes to believe me. However, make sure to check the weather conditions before you plan to visit West Maui.
Number#3 Hawaiian Turtle Adventure Trip
Did you know that Hawaiian green sea turtle is an endangered species and hence can't be seen in zoos and animal reservoirs? It also means that it's illegal to catch or hunt them; in fact, you can not even touch them if you see them here. There are strict rules on these green turtles here. But you can plan a Hawaiian green turtle, also called Makena Turtle adventure, where you can swim and snorkel around them in clean, crystal clear, bluish water of Maui
And that's not all. You can also witness Manta Rays, Eagle Rays, different species of octopus, jellyfish, eel fish, dolphins, and even whales here. Amazing, right? Well, I wasn't lucky enough to get a glimpse of whales, but yes, I have seen the rest, and I absolutely loved them. All thanks to my Greatever snorkel mask, and Greatever snorkel fins, snorkeling here was easy and smooth. Just make sure that you are here during the right seasons.
Oh, and unlike the other trips, this could be a family vacation spot. You can also bring your kids here for sightseeing and swimming. Trust me; they would fall in love with Maui.
Make sure that you have packed a panoramic snorkel mask and a Dry Snorkel Set (preferably). It would help you to enjoy the snorkeling adventure alongside these amazing sea creatures without needing to adjust the snorkeling gears again and again.
Top snorkeling sites in Maui
Maui is the most famous tourist spot for snorkeling, even for beginners. There are plenty of sites where you can learn snorkeling. There are shallow, warm waters that allow everyone to enjoy the snorkeling experience but, of course, with a premium quality snorkel set and a panoramic snorkel mask. Here are a few suggestions based on my personal liking, which could be of interest.
   Molokini Crater
   Turtle Town
   Coral Gardens
   Honolua Bay
   Five Caves
   Black Rock
   Napili Bay
Reasons why you would never forget Maui tour
The meaning of vacation is different for everyone. I totally understand and respect that. But I would still recommend all readers to explore Maui island for their holiday in 2022. Not just snorkeling, you can do a lot of fun activities here. And not just a couple of days, you might want to spend two or three weeks here.
Maui is easy to access, has all food options, accommodation facilities, and parking. There is no reason that you would get bored here because there is so much that could excite you.
Yes, there are so many snorkeling trip planners that would take you to Maui. But I would suggest you to custom plan your tour. It is hard to tell which one is the best among all, so its better to explore everything or your own.
Whether you do any of my top three recommended activities during Maui tour or all of them, trust me, you are going to remember them forever.
As I keep saying this, I probably can't do them justice with how amazing is the idea of a vacation in Hawaii, you have to go there and see all this by yourself. Just an additional tip; when you are finally convinced of going there, why just limiting to one place or activity when you can have whole Maui by yourself? Make sure to remember all this information that I have mentioned here or bookmark this article to find what you can do in Maui.
Happy vacations!