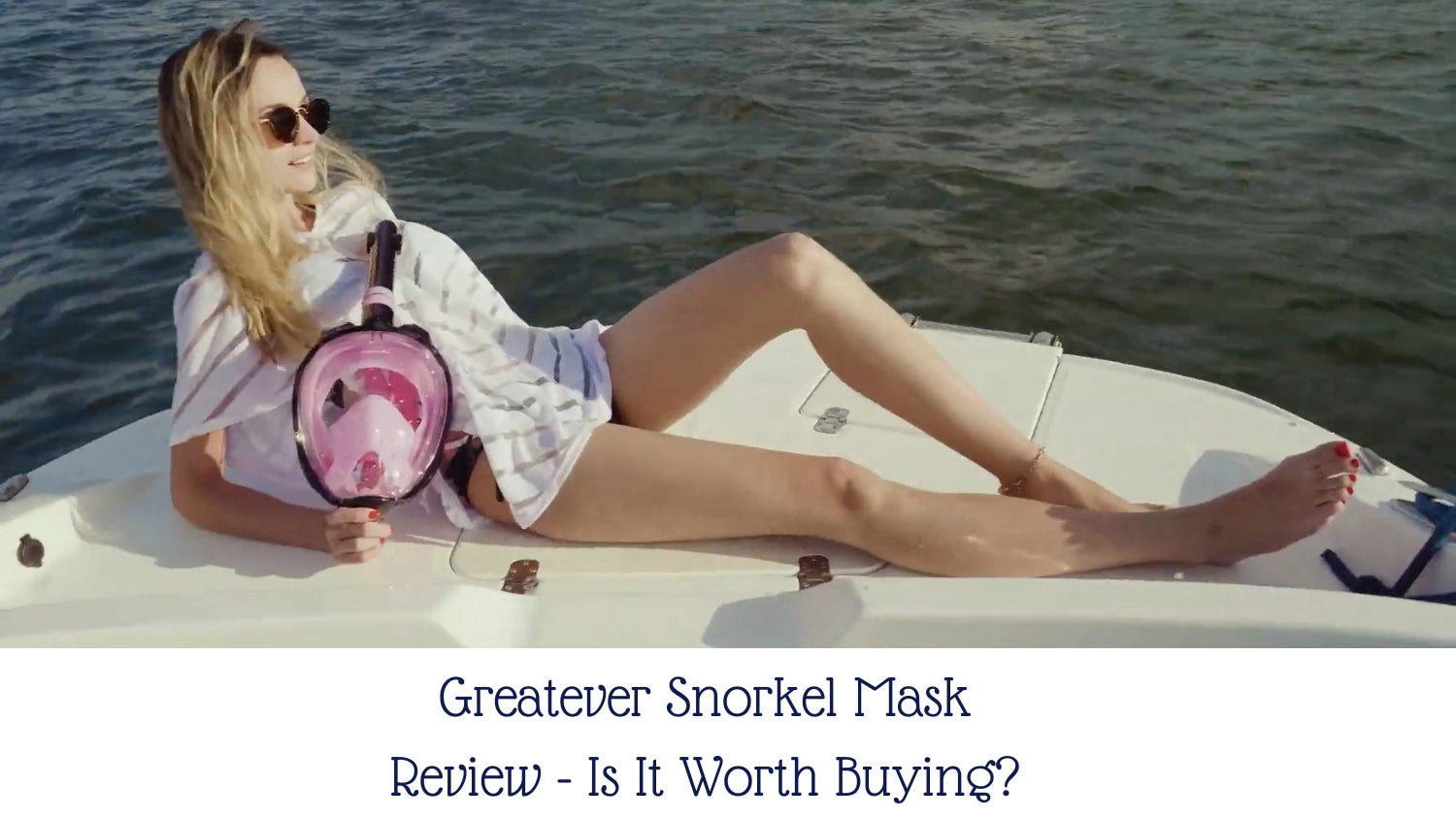 Greatever Snorkel Mask Review- Is It Worth Buying?
If you are a professional snorkeler or starting your first experience with snorkeling, either way, there is something that you should not ignore. Invest in a good quality full face snorkel mask-like Greatever full face mask, because this is something that would make your snorkeling experience worth it. Before we discuss the Greatever mask in detail, here is something that you must know beforehand.
What to remember before buying a snorkel mask?
If this is your first purchase of a snorkel mask, there are a few things that you should know before deciding which mask to buy.  Typically, a full-face mask is a perfect and better alternative to the standard panoramic mask for many reasons. Some of them are as follows.
Complete ebreathing support
Using a full-face mask supports natural breathing through nose and mouth. It makes a person more relax when he is underwater. Also, it is more comfortable than the average masks, which is more helpful for first-timers.
Prevents water to enter and free movement
A full-face mask makes a complete barrier around the face and seals it. It means no water can enter inside the mask, even when you smile. Most people with facial hair or a mustache face difficulty while using standard snorkeling masks. But with full face snorkel masks, there is no such problem. The rear strap sets it on the face, allow smooth movement, and enjoy the snorkeling more.
Built-in dry top equipment
Although you might find this feature in standard masks too, a high-quality full-face mask is something that makes it even better. Its ball floating system prevents water from entering inside the tube when it is submerged. Also, if some amount of water makes inside the snorkel mask, it is moved out through the chin side, which has a small valve to drain it out. So, the mask remains dry from inside.
 All high-quality full-face masks come with anti-fog technology. So the mask never gets foggy from inside as the vent system regulates air circulation inside out.
If you want to spend more time underwater, a full-face mask is an ideal choice. It is more comfortable and thus prevents fatigue and stress.
It is beneficial for people who are suffering from inflammation in jaws or any oral condition that doesn't let them hold the mouthpiece for long.
Usually, a full-face mask has a curved lens that allows the user to enjoy a clear and uninterrupted 180-degree view to experience.
Our Recommendation- Greatever G2 Full Face Snorkel Mask
The Greatever full-face Snorkel Mask is a new and revolutionary product that could make a snorkeling trip more exciting and memorable. It is incredibly comfortable, user friendly, and affordable than other brands offering a similar product.
It is wise to look for all specs before buying any product such as size, comfort, and product quality. So, here are a few things that you must know about Greatever full face snorkel mask.
Basic details
Every package of Greatever mask contains; one snorkel mask, one small storage bag, and one accessories bag. It comes with a detailed instruction manual to assist the new users.
Top features of Greatever G2 Full Face Snorkel mask
Secure breathing support system with a completely dry top system
180° panoramic view
anti-distortion flat lens
Anti-fog lenses
Adjustable straps and silicone strips at edges
Extremely comfortable
Dry set
East to use
Easy to carry
Travel friendly
GoPro action camera support
Affordable
Comprehensive Review of Greatever Full Face Snorkel Mask
Based on the user experiences, here is a detailed evaluation and ratings of Greatever full face snorkel mask. Note that it exhibits these features when used during ideal weather and water conditions.
This Greatever Snorkel Mask ha everything that a snorkeler ideally requires. Hence it is highly functional gear, which is explained below.
Breathing control
This snorkel mask allows easy breathing, which most of the other masks don't offer. You can breathe naturally despite wearing the mask. And it facilitates both nose breathing and mouth-based breathing. This is a big improvement from the traditional mask, which only allows a user to breathe through the mouth.
Another benefit here is that water drops would not enter the inner chamber of the mask. There are valves to regulate the in and out the entry of the water from the top side. This mask would fit your face and doesn't fall out. This is an ultimate experience of comfort, especially for beginners who have no experience of being underwater.
Minimal design and weight
The design is kept super minimal so the user can feel comfortable with it. It comes in different colors, but the design is the same. It is lightweight, and using this full face snorkel doesn't let a person feel any heaviness or burden when he is underwater.
Clarity of view 
Greatever full face mask has a single piece lens, which is bigger than all other masks. It facilitates the user to enjoy peripheral vision, which was never a feature of traditional snorkel masks. So, you can enjoy a full 180° panoramic view of the sea.
In addition to that, the anti-fog system makes sure that there is no hindrance in its view. Therefore, the underwater snorkel experience is never compromised.
Durable and long-lasting
It is a premium quality gear that you can use again and again. The superior grade plastic, glass, and silicone-based body is durable and could be used for years. There are no reports of any user complaining about the quality hence it is a good investment of your money.
Simplicity and comfort level
The Greatever snorkel mask is one of the most comfortable snorkel masks. It is easy to use and adds no burden or problem to the snorkeler. Instead, it makes their underwater experience better.
Its design is simple; if you carefully inspect it, there are no pressure points of straps. So there is no added pressure to the face or head while using this mask. It fits the face, preventing the water from getting inside the mask and also protects the face from saline seawater. Moreover, it doesn't need to be held in the same position with the mouth, so there is no stress on jaws.
Highly adaptable
Snorkeling couldn't get any better with the Greatever full face snorkel mask. It is a versatile mask that works in all water types and temperatures.  It covers the whole face, and its valves make sure that no water is entering inside.  However, it might not be an ideal choice for scuba diving.
Handy
As it is a lightweight mask, you can carry it anywhere without a problem. It is travel friendly, and you can take it with you on long trips without any problem.
Affordability
For all these features, the Greatever Snorkel mask justifies its price. It might not be the cheapest mask, but it is worth its cost. You can't expect the same quality, features, and comfort from other brand's snorkel masks on this price. So this is an excellent value for your hard-earned money.
Storage
This mask looks big and bulky, but you can easily fold and slide it into a small-sized waterproof bag and carry it anywhere. Remember that the snorkel is folded backward in Greatever full face masks. It doesn't detach like other brands, and this folding is convenient than the detachable snorkel pipe, which could be a problem during traveling.
Additional features
The Greatever G2 Snorkel Mask has an optional GoPro mount if you want to capture your underwater experience. The GoPro gear mounts on the base of the snorkel. This way, it doesn't hinder your view but still captures all that you see. However, it is removable, and if you don't want to use it, you can simply detach it.
Unlike other masks, Greatever uses a flat lens in its full-face snorkel masks. Usually, a  panoramic mask uses a curved lens, which makes nearby objects to be at a far distance than their actual length. This new flat lens distortion-free and the snorkeler can focus on swimming instead of saving himself from the nearby objects as it shows the real picture and distance with the objects.
The Greatever snorkel mask comes with a lifetime warranty. However, it is best to seek the quality-related assistance within 90 days of your purchase.
Although it might not be a major concern, some people prefer to match their full snorkeling gear. For all such people, here is good news that Greatever full face snorkel mask is available in different colors, and they can match it with the rest of their gears and costume.
Conclusion- should you buy it or not?
Greatever is established as a diving products manufacturer. Their new G2  full face snorkel mask seems like a product that you can trust. It is minimal, simple, user friendly, and comfortable. All of this makes your underwater experience better, and you would be able to enjoy life underwater with an uninterrupted view and free movement.