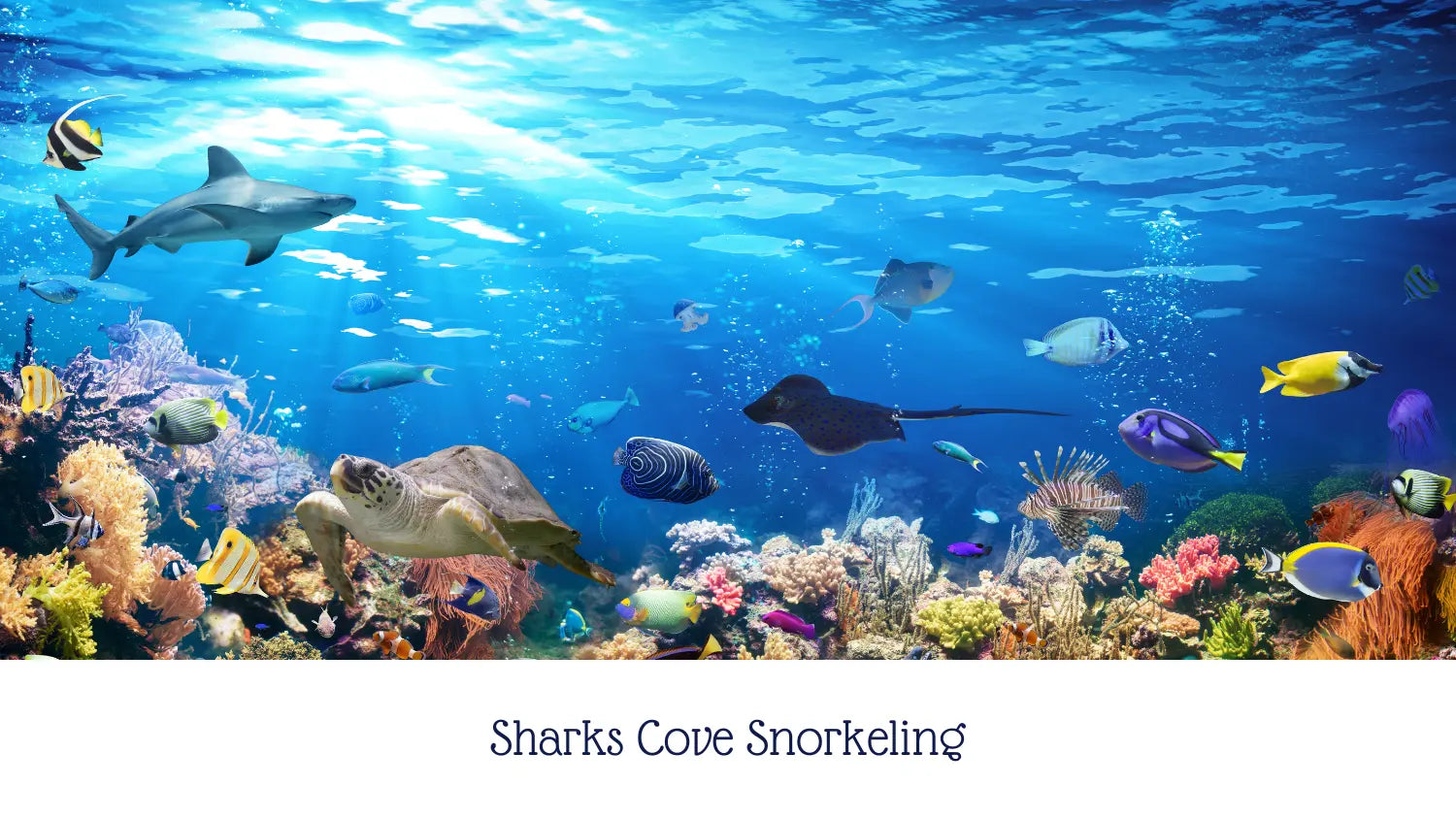 Sharks Cove Snorkeling
Experiencing Snorkeling at Sharks Cove Hawaii
As Hanauma Bay is undoubtedly the most favorite snorkeling spot at Oahu, still there are many other places that are still not largely explored. Based on what do you want to experience, there are so many places that could be tried. For example, if anyone of you is staying near North Shore, one great spot that couldn't be missed for snorkeling is the Sharks Cove. Here is my personal experience of snorkeling at Sharks Cove as well as Hanauma Bay. Continue reading to know the tips, tricks, and things to know before planning it this summer.
Where is it located?
Sharks Cove is located on the north coast of Oahu, one of the most famous islands in North Shore. It is a popular tourist destination and is always crowded with people from all around the world. The nearest airport is the Honolulu which is only an hour away from it if you are traveling at 50km/hour. While I visited it, I drove my car at the H1 West and then the Kamehameha Highway. It was not difficult to find the rocky beach as there are road signs and guidance maps everywhere all of which eventually lead you to the Sharks Cove beach.
What are the best things about Sharks Cove?
Let's start with its name. Don't you think about what possibly lead to naming this beach as "sharks cove"? are there any sharks? Is it dangerous? What is the reason behind it? Well, I was curious enough to pay attention to it. Asking a few locals helped to know that it is not as dangerous as its name may sound. Sharks Cove actually got its name from lava rocks that make this beach. This rock formation looks like a shark from an aerial view and that is why it is called this. Sounds legit, no?
Coming to the main part, why should you visit Sharks Cove. If you ask me, I have a deep affiliation with clean, clear water, marine animals and a beautiful view that comes with basic necessities such as restrooms, food options, parking, etc along with it.
Not only this beach is gorgeous but also a personal favorite. if you are a foodie like me, there are a number of tasty food trucks standing right across the street, offering tastes of the world.
To me, the best part of Oahu is its North Shore since it is not as crowded as other beaches. Everyone who doesn't like to have so many people around, this place is a good option with a limited crowd. The food carts and eateries here are a lot better than the rest and in fact, you might hear about people coming here just for the food as well.
My experience for snorkeling at Shark's Cove starts with one piece of advice, try planning it in summer Shark's Cove is much calmer and warmer in summer months. In winters, the crowd rises and let's not forget the gigantic waves with a strong current that could cause a hindrance in snorkeling experience. Additionally, look for the weather conditions before you reach there, irrespective of the season.
Once you are there, consider knowing that morning is the best time to explore it. There is no crowd, no noise and sipping a coffee to rising sun is nothing but pure bliss. If not snorkeling, shark cove is still a good option to start your morning. It has plenty of parking, you can come here around 10 am-11 am and eat brunch or lunch from the fresh food trucks. All in all, the warm sun and blue water is no less than a day in paradise.
Options for accommodation at Sharks Cove
As I told before, there is plenty of parking space here but it fills up really fast. Some of them are near to the beach but some are a few minutes away. I usually reach early morning and get myself lucky to find a spot nearest to the beach. If you reach it around 11 am, there are chances that all nearest spots are filled and you might need to park a bit farther. However, it is still manageable and this walk to Shark's Cove only takes a few minutes.
Weekends are the most crowded days of the week. For those who don't know, there is only one highway that reaches here and that too is a one-lane road. So, for all the people coming to this entire shore, this traffic may go bad a stuck up on weekends. But on weekdays it is usually fine. I would suggest all people who really want to enjoy snorkeling at Sharks Cove to come here during the week. There are no motels or rest houses in this area but there are a few on the main road (Kamehameha Highway) of Sharks Cove.
There are public restrooms available here.
There is only one supermarket near the highway.
There are no lifeguards so it might not be safe for beginners or underage kids.
Pro Tips for Snorkelers at Shark's Cove site
Although everyone knows the basic snorkeling tips but make sure to bring sunscreen, bathing suit, snorkel gears, towels and money for lunch or buying anything locally.  Try to bring a high-quality mask-like greatever panoramic snorkel so that you enjoy the panoramic view with clarity underwater. 
It gets really rocky while moving on the beach and I personally suggest to wear reef shoes that would not only save your feet from injuries but also make in movement underwater smooth.
The water here is very shallow and it is perfect for a beginner level snorkeler. In some areas, the water may get too shallow and it might not be feasible for the new divers, so look around and see how the water depth changes.
Searching the Hanauma Bay online is helpful to some extent as you may get some general information on it. But there are no safety videos and tutorials to help new tourists. However, everyone who is visiting is expected to avoid all types of nuisance and damaging the sea and marine animals.
On a lighter note; did you know that Hawaiian green sea turtles and monk seals are considered as endangered species? If you see them around, refrain from touching or hurting them.
Should you buy your own Snorkel Gear or rent it?
While snorkeling gears are easily available for rentals but here on this beach, there are limited shops that rent this gear. Even if you manage to find these shops, the gears that they would be offering are low grade, used and God knows how much filthy. You can miss them and buy your own snorkeling gear that you could re-use repeatedly. So yes, try buying durable and good quality snorkeling gears like Greatever panoramic snorkel, a foldable snorkel mask for making your experience worth remembering.
The optional island tour
And if all this is not enough, let me tell you about an extra activity that you should never miss while being here. Yes, it's the Oahu Circle Island tour which you can either do independently or through a local company. If you are new to Hawaii, it is better to take help from the local companies which would introduce you to the best routes and stops as per what do you wish to explore. Some of the famous spots to explore here include Haleiwa, Lolani Palace, Alii, Downtown, Wailua Farm, Kawela Bay and much more. In my opinion, you should not miss visiting Sunset Beach, and Waimea Bay if you want to have the best time of your vacation. However, if you are interested, you can also check out the Mac Nut Farm and Aloha General Shave Ice as well.
Hanauma Bay or Shark Cave- Which one is better?
During my vacation last year, I snorkeled in Oahu at Shark's Cove and Hanauma Bay both sites. Now, these two are equally popular among tourists and are amazing for varied reasons. If you ask my opinion, I loved them both but my choice to visit each one of them would be based on different reasons. Let's start with Shark's Cove.
Shark's cove-I first went to Shark's Cove and immediately fell in love with it. Snorkeling in open water has never been so much fun as it was here. I even saw families with children there who were excited about going underwater. I guessed the water was not very deep and even a first-timer could snorkel here. So yes, it is good to visit Shark's cove if it's your first time snorkeling experience. I took my own snorkel gear, but there were shops that could rent this gear too. However, it is better to bring your personal gear especially the snorkel mask, as it would make your underwater vision better. I would recommend a foldable snorkel mask as it is easy to carry and use.
One thing that impressed me the most is that Shark's Cove has restrooms and showers and they are absolutely free and even snorkeling here is absolutely free. So, I was amazed for snorkeling here after which I took a shower and explored a huge variety of food trucks around the corner. For me, the idea of a perfect vacation is not much crowded and Sharks Bay is a lot less crowded than Hanauma Bay so yes, I loved my trip to here.
Hanauma Bay-it is more popular than sharks cove but also more crowded and busy. My next stop was Hanauma Bay and the first thing that I noticed was a lesser parking space. The parking here is charged per hour and is part of the beach is more commercialized than sharks cove. The rental shops are close by, lockers are available, food stalls are here. The amazing thing about Hanauma bay is that it has much more variety of marine animals and reefs that are the major reason behind its tourist attraction. I found the water here to be too deep so not recommended for new or first-time snorkelers. I snorkeled here for a while but gave up and spent the rest of the time on the beach.
Conclusion- Which one is better?
For me, Sharks Cave is a better choice than Hanauma Bay, mainly because I prefer noise-less and less crowded places where I can enjoy the beach all by myself. It is more accessible and easier to snorkel which unfortunately is not the case with Hanunama Bay. I loved them both but if you want to see marine life, try visiting Hanauma Bay and if you want an easy snorkeling trip, visit Sharks' Cove this summer. Don't forget to bring your own gears especially the foldable snorkel mask to enjoy the underwater view.