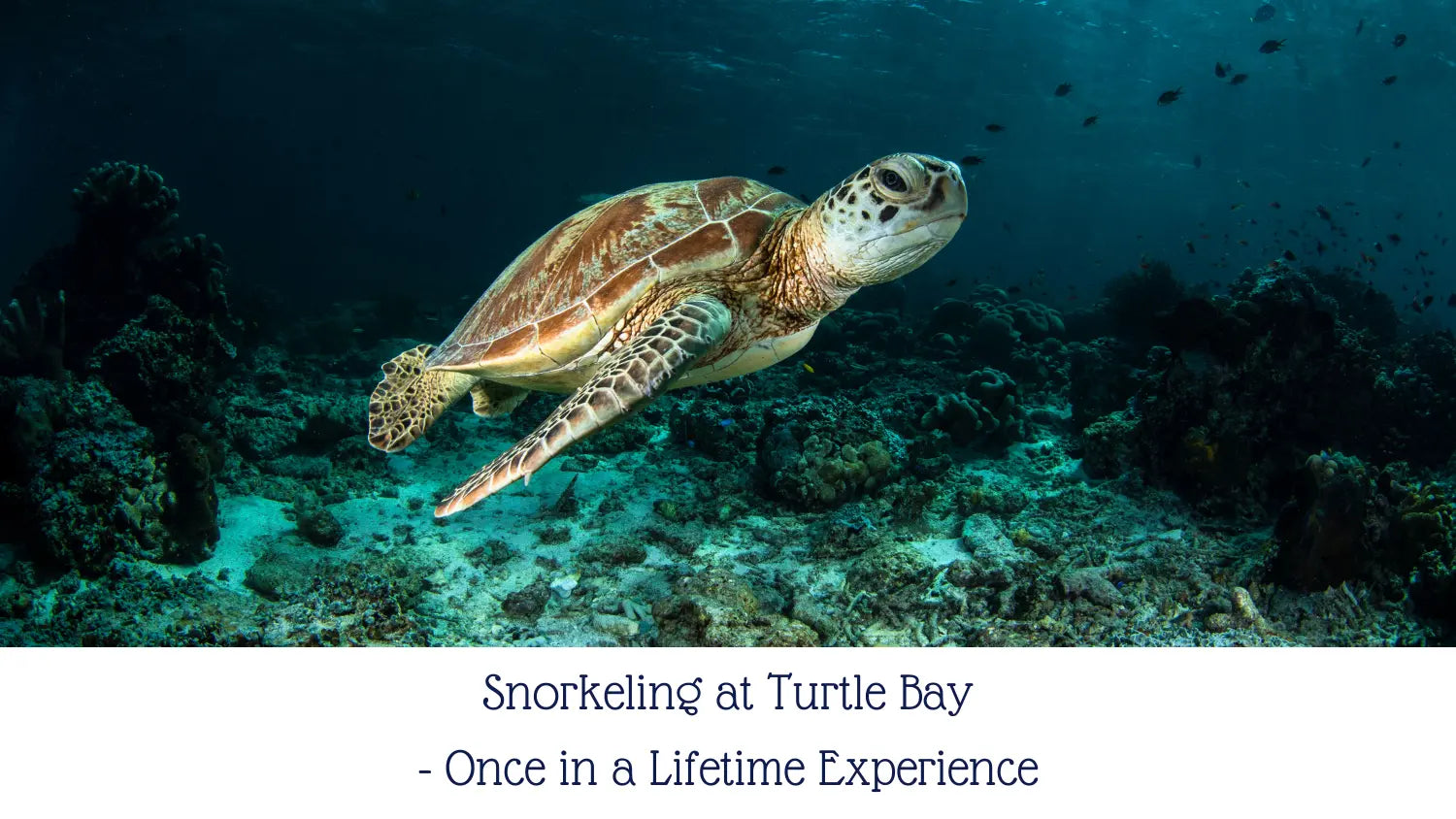 Snorkeling at Turtle Bay- Once in a Lifetime Experience
Stepping on to Turtle Bay is your entry to the most serene views of North Shore and the legendry coastline of Oahu, Hawaii. It is named "Turtle Bay" on the famous green turtles of this area, which were the only inhabitant of these shores, many years ago. Now, people come here for diving, snorkeling, fishing, or just exploring around.
 There are beautiful coral reefs here and deep blue waters that invite people to explore them. Reading about it generally might not give you a clear idea about it; so, here is my personal experience of Turtle Bay Snorkeling. Read it and decide yourself if you are going to give it a visit. Let's start with where to get in there.
Getting to the Turtle Bay
Turtle Bay is situated in Oahu's North. You can easily reach there by bus within two hours from Honolulu, the capital of Hawaii. But if you ask me, I will suggest you take a rented car or bring your own. In the case of rentals, you can find local vehicles at the most affordable rate in Honolulu that you can book for a couple of days and return it before leaving.
Renting the car is better because you would get to see the amazing views of Turtle Bay. I loved it, and I am sure that you would love it too. Just take the Kamehameha Hwy East and then turn on the right side towards Kuilima Drive. After reaching here, you will see Kuilima Cove first. If you just want a short trip, this beach is also an excellent place to explore.
But you might not see any turtles here, and for that, you have to explore the area more.  For that, go back to the place where you turned here and take the right turn on the first road that would take you to Shaka Kayaks. You can park your car here and make your way ahead.
Can you actually find turtles at Turtle Bay while snorkeling?
Let's just accept that anyone who thinks about Turtle bay vacation secretly hopes to see the turtles here. But not all people know that these green sea turtles are endangered now. The local green turtles are called "Honu," and unlike before, they are not commonly seen on North beaches now.
Only a few snorkelers and scuba divers can sometimes find them in Turtle Bay, Lanikai Beach, and sometimes at Hanauma Bay too. Sometimes these turtles come out of the water to soak the sun. But other times you may find them swimming near the beach. During my both trips to the North Oahu, I didn't get to see any turtle, despite looking hard for them. That made me unhappy for some time, but guess what; it has also given me the motivation to explore this area for the third time. See, Turtle Bay has all the reasons to captivate you.
What types of turtles are there on these beaches?
Experts believe that turtles here in Hawaii are of two types; Green sea turtle and the Hawksbill sea turtle. Between these two, the green turtle is now an endangered specie and is protected by the state and federal laws and regulations. These laws prohibit catching these turtles as people often find or steal them for their beautiful shiny shells.
During the last few years, their number has been increased, so there are still chances that probably it wouldn't be an endangered specie within a few years. On the other side, Hawksbill sea turtles are not endangered but generally less seen in these beaches.
How to differentiate between two?
Even if you happen to see a turtle during diving or snorkeling, there are high chances that you are watching a green Hawaiian turtle and not the hawksbill turtle. However, you might need your Greatever snorkel mask, to spot them more clearly. Green turtles are much more likely to come out in public than the hawksbill. Also, green turtles are herbivores, and if the turtle that you spot is eating some seaweed or a plant, it is definitely a green turtle. If you spot a turtle eating any small animal, it is most likely a Hawksbill turtle.
My top three recommendations for snorkeling at Turtle Bay
If you are a snorkeling lover like me, there are many places here that you should explore. Literally, there are dozens of such remarkable sites where snorkeling is fun and adventure both. Just bring your panoramic snorkel mask with you so that you don't miss any view. Here are my top three picks at the North Shore for snorkeling.
Three Tables-this place is no doubt the best snorkeling site where you can enjoy a peaceful vacation. It has got its name from its rocky surface that looks like a table. The coral reefs here are remarkable, and you will get to see plenty of fish types that you can never forget.  The ideal time to come here is summer, and Three Tables will give you some amazing memories to cherish for life.
Kuilima Cove-located on Tutrtke pay, this place is ideal for a family vacation. You can enjoy all the fun water activities without having to worry about any possible dangers.  Here you will see clear water, plenty of fish, and if you are lucky, you might see green turtles too.  It is an ideal place if you want to teach someone snorkeling. Just make sure that you have got the best quality snorkel set like the Greatever Dry Snorkel set, which is a fog-resistant, panoramic snorkel mask for diving, easy breathing tube, a comfortable design, and professional snorkel gear. If you don't have your gears, you can also purchase it from the nearby shops. But I would suggest that you bring your personal equipment.
Sharks Cove-okay, my "the most" favorite among these three is sharks cove.  Crystal clear water, flat waves, and no public noises make it no less than a piece of paradise on earth for a snorkeling lover. You can find plenty of parking spots here. But note that only small cars or bikes can reach to Shark's cove. And no, there are no sharks here, just to be sure.
Snorkeling at Turtle Bay experience
Snorkeling on turtle bay is rather easy. But you need to take your Snorkel set and Snorkel fins with you. For learners, I would suggest Greatever new Dry Snorkel Set and Greatever Snorkel Fins as they are pretty affordable, continent, and easy to use gears that you can use for long. In fact, you should get your hands on these snorkeling gears before planning snorkeling at turtle bay. After this trip, you can use them for other vacations too, as these are high quality and durable snorkeling equipment.
Apparently, it makes no difference, but snorkeling around the turtles is actually a little tricky. There are specific guidelines that you need to follow. Turtles are wild animals that are not as such dangerous for the tourists here, but this is precisely why many people hunt them and sell them for a fortune, eventually leading to their potential extinction.
Here are a few tips based on my readings and experience of snorkeling at turtles bay.
If you see any turtles around you, avoid overstepping them, and stay out of their way. They are out for a reason, so let them enjoy the beach too. You can watch them from a distance.
if you spot them around you, no need to make a loud noise. It might bother them, and they will move from there. So speak softly and avoid making any noise.
No, it is not safe to touch a turtle as you can transmit him a disease, or it can also transmit you one. So better not to move it.
While it might help you to take a better picture but turn off your flashlight whenever you start taking photos of a sea turtle nearby you. Light of flash might disorient them and make them uncomfortable.
If you are taking your pets on vacation, do not take them to the beach where you can potentially see a turtle. You see, a dog doesn't know the significance of this turtle, and it might hurt it. It's better to be safe then.
Report to the authorities
If you see a turtle on an unusual site, condition, or spot someone catching it, you have to report it to the concerned authorities.
You can also book a turtle watching tour if you like. There are plenty of local companies that offer such tours. But for snorkeling, there is no company's permit required, and you can snorkel at any beach of your choice on turtle bay. Remember you can not enjoy any underwater scenes without a superior quality diving mask such as Greatever snorkel mask,,so get one for yourself.
Just rent a car and reach here alone, with friends or your family for making some good memories. Remember to respect the sea animals here and enjoy yourself. Aloha!