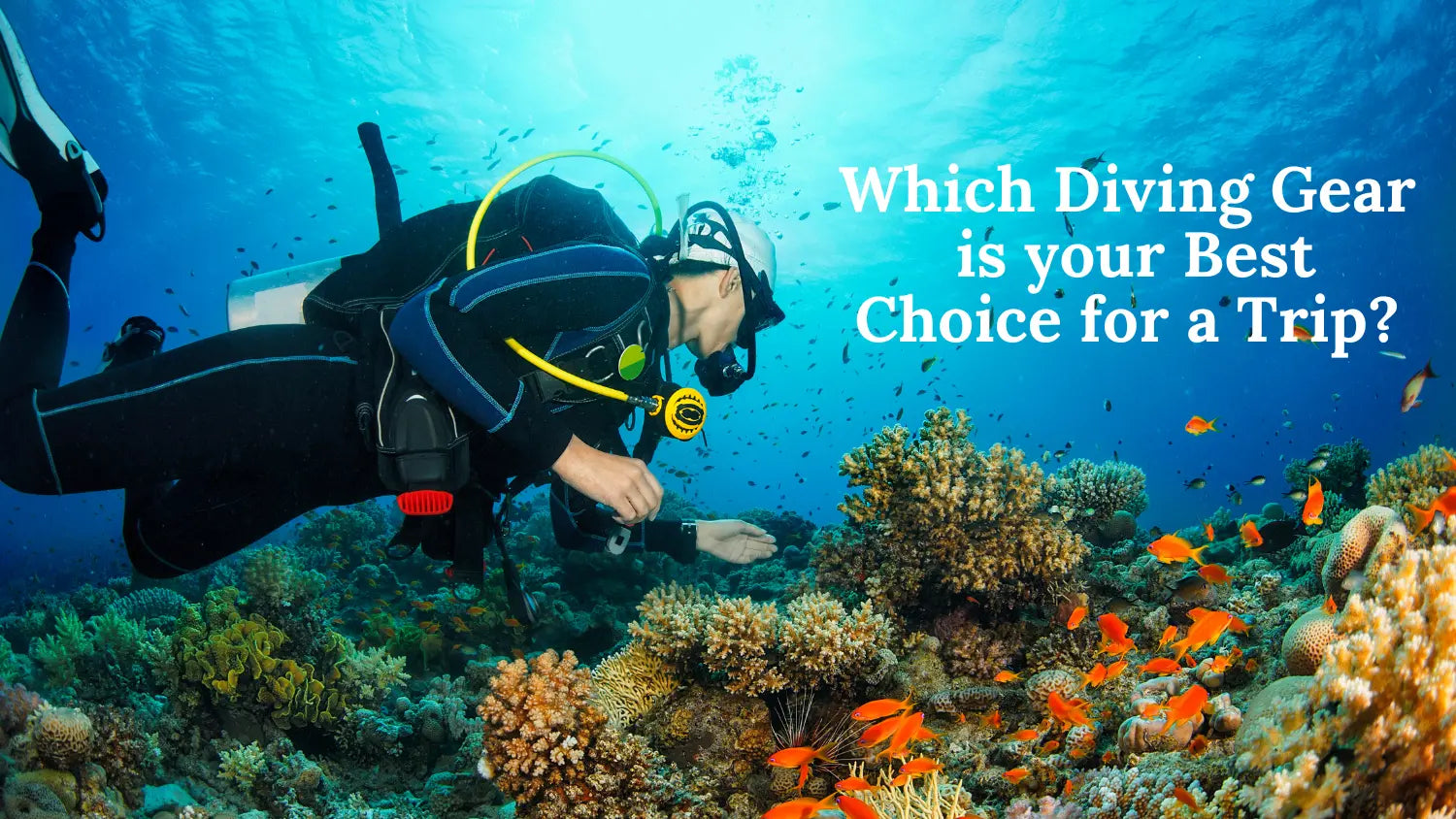 Which Diving Gear is your Best Choice for a Trip?
The three "s" for a perfect holiday; the sun, sea, and stars fit perfectly for one place in Southern California, San Diego. It is the ideal holiday destination for everyone who wants a break from everyday life and spend time close to the nature.
Many people know about San Diego for having the largest US naval base. But for the tourists, many other things bring them here every holiday season. Many tourist companies could arrange these diving trips, but it is better to plan and enjoy an independent trip as per personal preference and liking. Not only it cuts the price, but it also allows a person to make or change any plan if he finds anything better than what he initially planned.
Located at 20 miles from Mexico, San Diego has perfect mild weather throughout the year and happening light life.  But when it comes to scuba diving, nothing could beat it's worth watching diving sites, never seen before sea creatures and perfect climate.
Here are a few places that every swimming lover should explore.
Best places to swim and dive in San Diego
Starting with the famous La Jolla Underwater Park, named Matlahuayl State Marine Reserve originally, it is a paradise for tourist lovers as it offers everything from the kelp forests to amazing underwater canyons and plantation. Scuba diving with the exotic sea creatures like sea lions, horn sharks, seals, seven gill, and crustaceans make this dive worth it.
The best time to enjoy these waters is between July to January. And the best period is August September and October when the surface temperature is somewhat 59 to 72 F, and water temperature at depth is 50 to 56 F.
Divers will want a 7-mm wetsuit, hood, and gloves at the very minimum for exposure protection; dry suits are more comfortable year-round. Although it is better to use premium swim gear here, even the basic ones would also work.
For those interested in diving into the kelp forests, the best site is the La Jolla Cove, which is technically a shore. It takes some time to reach to this sandy beach from the main road. For best, take off with the San Andreas fault and then swim from this shore to the fascinating kelp forest that glows in the warm sunlight.  Diving deeper would allow the divers to see steps like rocky formations, which is a house to lobsters. It is much likely to come across sevengill or horn shark. It is better to explore all this while wearing premium quality fins such as Greatever's snorkel fins as they ensure a smooth underwater movement. As adventurous as it sounds, La Jolla cove is equally protected, and even the basic diving training would also work here. Many diving shops are selling/renting diving and swimming gear along with on-site lifeguard station.
This site is a long beach, which is an ideal point to starts the journey of exploring La Jolla canyon here. Following this all along could let a diver see ray fish, guitarfish, and if he is lucky, angel sharks too. Between July and September, there are many leopard sharks here because it's their incubation season.
Diving into the canyon opens a new world; rock formations, corals, kelps, seagrass, and swimming with octopus, fishes, and crabs make it memorable. While diving at San Diego's La Jolla shores is open for the entire year, it is slightly rough in winter than summer.
For reef lovers, Wreck Alley is something not to be missed. Unlike other places, it is an artificial reef site located a few miles away from the Mission Beach coast between La Jolla and Point Loma. It is not suitable for first-timers. Diving here requires special skills and professional gadgets like Greatever swim goggles that are UV protected anti-leakage, anti-fog glasses for enjoying HD panoramic view underwater. There are too many entries and exit points here, which are easy to follow by the wreck-certified expert divers.
What to pack for a swimming/diving trip?
The love for underwater experience is one thing, but it requires the background preps and planning to make it worth remembering. To explore the deep layers of the ocean, it is necessary to have;
Physical skills
Information
Training (if required)
But what is important most is the right type of diving gear.
Scuba Diving/Swimming trip Checklist for San Diego Trip
Anyone who plans a vacation in San Diego should pay attention to packing and checklist for the diving gear. Here is a comprehensive list to make sure that there is nothing missed.
It is not possible to see in saltwater as well as we see on land, which is why the first thing that divers need is a 'mask.' Diving without a mask is still possible, but it might not let the diver enjoy all underwater beauties. While renting a mask is also an option, the best is to buy a good quality mask that could be re-used afterward. One excellent choice is the Greatever's Panoramic mask, which is easy to use, and its 3d fit adjusts to every face.  
It might not be easy to travel with a dry or wet suit because they are quite heavy, but they help protect the skin while diving. It is typically made of a neoprene rubber, which also keeps a person warm. Make sure to check the average water temperature and then buy a dry or wet suit accordingly.
The diving gear list is incomplete without fins, which are necessary for a smooth movement in the ocean. Using fins as that of Greatever's swim and snorkel fins allow the diver to propel his body against the water with a good speed. Its adjustable strap, a quick release buckle, and a removable shape holder make it suitable for both beginners as well as certified divers. While looking for a good pair of fins, make sure that there is no compromise on efficiency and comfort level.
Gloves are not mandatory, but wearing the gloves protects the skin from bruises, abrasions, and injuries to hands and arms while diving. It is possible to come across slide past a rock, surface, or cave, which might damage the skin. Just like how a wet or dry suit work, these gloves creates a small layer of water between the glove and skin, to control heat, friction and allow smooth movement of hands.
A tank is a necessity, especially when diving deep. It supports breathing by storing and allowing the use of compressed air or a mixture of gas to breathe in. These tanks are made of aluminum or steel and could be purchased or rented from any swim gear shop.
The regulator is attached to the tank and makes sure that the diver can breathe properly. It has two parts, one part attaches to the tank (on the back), and the other part is taken into mouth by the diver. While buying a regulator, make sure to purchase the one that is easy and comfortable.
Snorkel is more of a personal choice than a must-have gear. Based on a diver's experience, he can think about buying or not buying it. But for the new divers, it is best to use all safety tools, including snorkel, when they don't want to use the tank. Those who are looking for options can check Greatever's snorkel that is comfortable and affordable.
Others
In addition to these necessary tools, many things are optional. Such as;
Depth gauge-to estimate the depth during a dive.
Submersible pressure gauge-to check the remaining gas in the diving tank.
Compass- for navigation underwater.
Dive computer-to measure the time spent under a certain depth.
Buoyancy compensator-to prevent floating on the water surface or sinking into the deeper bottom surface.
Underwater camera- to capture the incredible marine life and sea creatures.
Tank bangers- to communicate with fellow divers or warn them in case of an emergency.
Defogger- to prevent fogging in the mask while being in deep waters.
Diveknives- to cut the sea plants and weed that might trap a diver.
Writing slates- to communicate with other divers through writing.
Underwater light-to illuminate the deep dark layers of water, especially inside caves.
First aid kit-for personal safety in case of medical emergencies
Final thoughts
To make diving at San Diego as a worth remembering experience, it is necessary to get everything that is needed beforehand. Although every diving site has rental and purchases stores around that equipment is either outdated or inferior quality. Besides, it is always better to buy personal gears if you would like more diving trips in the future. Every dive needs more or less uses the same equipment with a preference of their use sometimes. But think of these gears as 'essentials' that are necessary for a safe diving experience. Lastly, look for all options that are affordable and offer maximum benefits for their price.