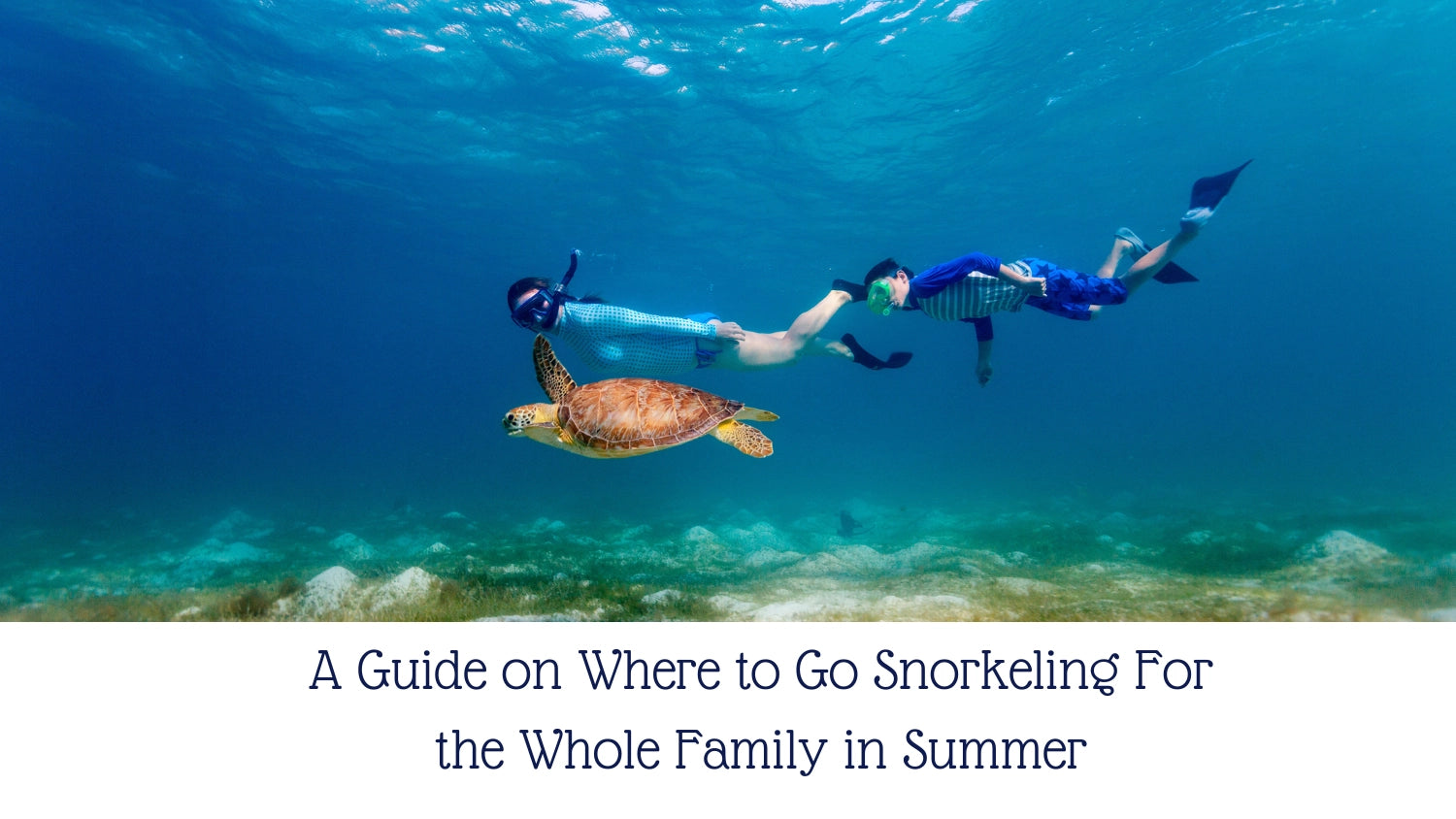 A Guide on Where to Go Snorkeling For the Whole Family in Summer

Snorkeling is not a new thing as it has been around for hundreds of years. People worldwide love exploring the depths of water, searching for hidden treasures in the ocean, or finding food sources. Some of the references also mention that Greek soldiers used the way through the reefs to plot an attack on Persians during their wars. But things have changed, and snorkeling has now become a favorite pastime of people, especially those who are adventurous and always ready to explore new waters. 
If you are in the United States, you are in heaven for snorkelers. The US has a 95,471 miles long coastline that carries some of the best places for snorkeling. There is so much diversity in these places that you can experience different temperatures, colors, weather, and biodiversity in these snorkeling sites all across the country. At some places, you will find exotic marine life and see dolphins and sharks for real. While you may see giant kelp forests, white sand, or an incredible reef formation at other places. All of these best snorkeling sites in the US are near beautiful islands that make perfect summer trip destinations. Not just for solo travelers, these places are also suitable for a family trip. If you are finding a family trip destination for the summer, read the following list and choose your options. 
Best Snorkeling Sites in the United States
Snorkeling is so much fun because it doesn't require a professional certification like scuba diving, and its equipment is much simple and easy to use, even for a beginner. You literally float under the water, and there is a lesser risk of experiencing any injury or damage. While there are limited places to go scuba diving, snorkeling has hundreds of places. Not just the oceans, but snorkeling can also be done in lakes, flooded volcanic calderas, rivers, and craters. 
Here is a list of the best snorkeling places in the US where you can enjoy a perfect holiday with your family. 
Dry Tortugas National Park (Florida)
It is located on the southern end of the country, which is categorized as the most secluded national park in the entire US. You can only reach here through a ferry and the only option to live here is by camping. It is the best option for someone who loves underwater diversity. The most amazing thing about here is that almost 1% of this Dry Tortugas floats over the water, so you don't have to go much deeper to witness marine life. It also has a Moat wall as well as a shallow shipwreck that gives a cool historic moment to witness. Some of the reefs here are older than 12,000 years, some of which are the most rare and endangered species, including Elkhorn coral and Staghorn coral. 
More than a decade ago, this site was declared a state park for some time. After that, it was hit by Hurricane Ivan, followed by Hurricane Dennis. Much of its area was damaged, but the county decided to rebuild Navarre Beach with artificial reefs and work to maintain the marine ecosystem. They invested $1.22 million in building a 'super reef' under the Natural Resource Damage Assessment (NRDA) program. Now it is home to three reef formations open for the public, all of which can be easily reached from the shore. It even has a nearby metro area making this place more accessible for the public. Navarre Beach is among very few beaches offering wheelchair access for people with disabilities. 
For camping, you can choose the Navarre Beach campground, which is less than a mile away from the public beach. It also has tents and cabins available with WiFi access and other facilities. 
Cinnamon Bay (Virgin Islands)
Those who live close to the virgin islands must be familiar with Cinnamon Bay, one of the best places for snorkeling in the US. The water here is shallow, which is perfect for new snorkelers but be careful because you may bump into the reefs here. There is no need to hire a boat for a particular site for snorkeling. The reefs are so widespread, and no matter where you dive, there is plenty of it to explore. The campground here is not far off from the beach and has all necessities available. Add this to your bucket list, and you won't regret it ever. 
Anacapa Island (California) 
California is the hub of snorkeling and scuba diving. With places such as Anacapa Island, it is among the top destinations to try this summer for a family trip. The kelp forests here are astonishing to explore by young children and teens. Although Anacapa looks like a remote place on the west coast, it has a wide variety of birds, fish, reefs, and other marine creatures. If you are into historical places, there is a lighthouse here that was built back in the 1930s and still in use. Last thing; It is an excluded area with limited facilities so most people that reach here bring all of their stuff including food and water with them.  
Gulf Islands National Seashore ( Mississippi)
Mississippi is not something that comes to your mind when you think about summer vacation for the family. But that's not right because the Gulf Islands National Seashore has a lot to offer. You can reach the grass bed in the sea bottom here and see sunken wrecked ship remains. The best sites to snorkel here include the bay area of Santa Rosa Island, where you can spot pinfish, octopus pipefish, seahorses, and beautiful underwater vegetation. The campground is almost half an hour away from the central Gulf Islands. 
Bahia Honda State Park (Florida)
Another place in Florida is the Bahia Honda State Park, a heaven for snorkelers, divers, and kayakers. The shallow waters here give the perfect Florida Keys experience. They are very user-friendly, so if you have young children in the family with little or no snorkeling experience, maybe you can teach them snorkeling here this summer. Plus, you will get to see different sea creatures such as hawksbill sea turtles, queen conch, sponges, seahorses, and different types of octopuses. For camping, there are many sites, including some options for boat-in camping. Some of these sites have electricity, clean water, grills, and all necessities to offer. 
Hookena Beach Park (Hawaii)
Other than Florida, Hawaii is a state with some of the best snorkeling sites in the US, top of which is Hookena Beach. This beach is not as crowded as other sites and has everything available, including the snorkel rentals, food, and shower areas. Some of the most exotic sea animals here are the dolphins, turtles, and the state fish of Hawaii with a unique name, 'Humuhumunukunukuapua'a.' If you are interested in fishing, you may see the natives using the centuries-old canoe technique to catch fish from the sea. Be respectful to the places and natives here and avoid touching any reef because they are so fragile. You will get all basic amenities here, including restrooms, showers, barbeque spots. Those who need the internet can separately purchase it along with a camping reservation. Some of the areas here are considered sacred, and in general, there are no pets allowed here, so don't bring your furry friend if you are coming to the Hookena beach for vacations.
Laguna Madre Estuary (Texas)
Many people know Texas for being a deserted, warm and barren state. But it has a 367 miles long coastline and has various sites, one of which is Laguna Madre Estuary, situated at the meeting point of the Rio Grande and the Gulf of Mexico. This area is a hypersaline lagoon where you will find tropical fish species, including butterfly rays, sleep gobies, pinfish, houndfish, and others. Although off-roading is common here, but make sure not to drive next to the sand, which may be a habitat of sea turtles. To reside, it has a 60km campsite that is easily accessible from beach access number 5 and 6. Bring the food and water with you and take your trash with you when you return. 
Papalaua Wayside Park (Hawaii)
Another popular place in Hawaii for snorkeling is the Papalaua Wayside Park that offers a little extra than all other sites. In addition to the regular marine life and animals, you may spot whales swimming here that are pretty easy to spot, all thanks to the crystal clear water here. You can either snorkel from this beach or move to 40 minutes in the South for Molokini. This is a sunken volcanic crater that may not be child-friendly because of the nudists that are often spotted here. For camping, you may have to drive back to the Papalaua campsite and camp anywhere you like. 
The last option on the list is the land-locked state of Utah which doesn't sound like a snorkeling destination at all. However, the Homestead Crater here is something not to be missed by the snorkeling lovers. This is a thousand years old formation that resulted from the melting of snow at Wasatch Mountains, which was heated by the earth, making a beehive type mass with an inner pool. You don't need any special skills to reach here in fact; it is accessible through a tunnel that gives direct access to the water. And the most amazing part is that this water constantly remains 90 degrees, making snorkeling here a memorable event. There are many accommodation options available here, including guest rooms, condos, and suites. But if you want to explore nature, you can camp anywhere in Jordanelle State Park.