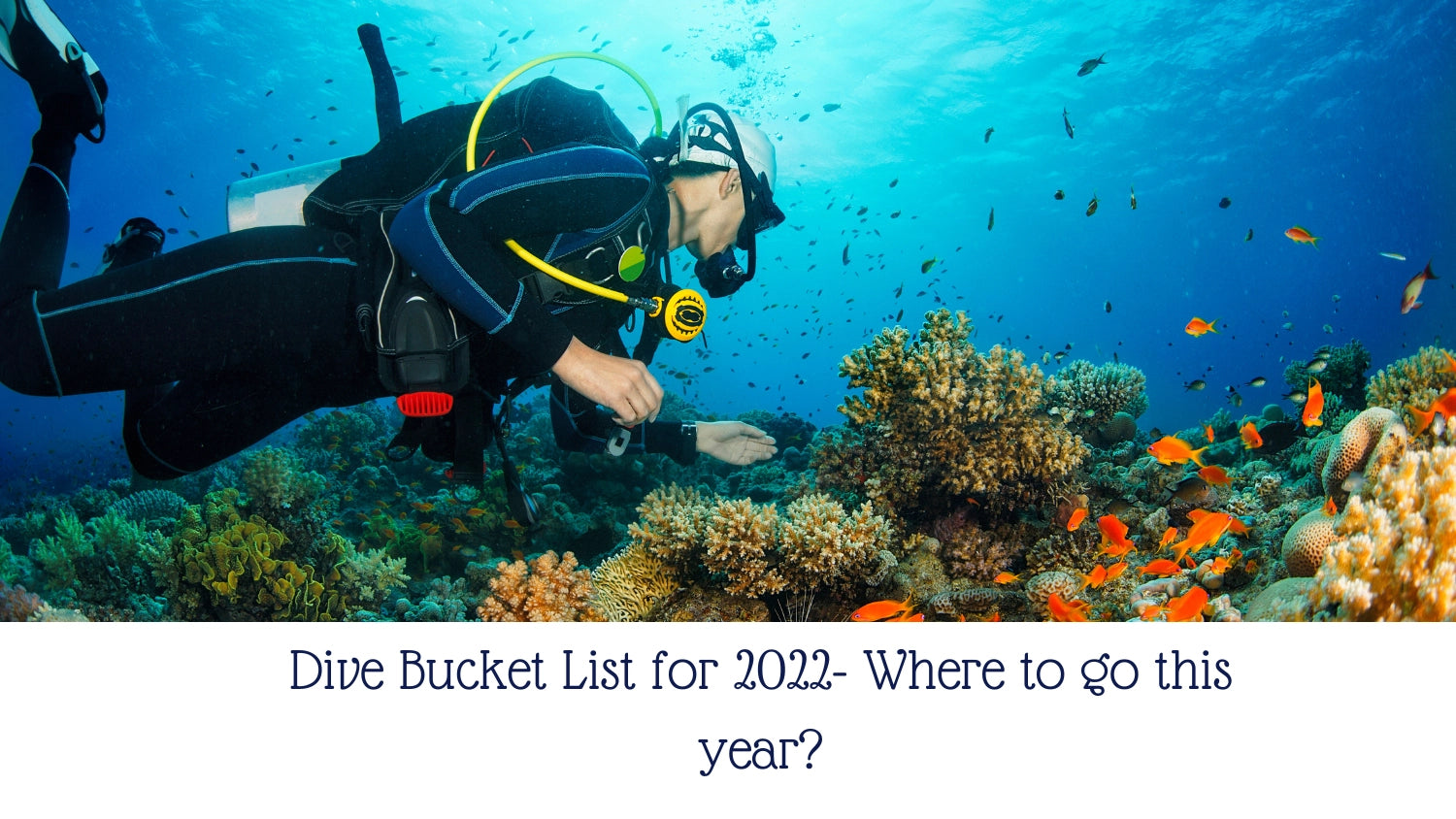 Dive Bucket List for 2022- Where to go this year?
Scuba diving is a recreational sport, and the good news is that you don't have to be a 'pro' at it for enjoying it. Reading diving stories of others gives the impression that it is probably something that only experienced divers can do. Some readers also assume that they have to plan an exotic trip and travel to the 'popular' sites for scuba diving. But what if someone tells you that it is not true and the perfect scuba trip is only one vacation away from you?
The love for exploring the sea is natural, but not everyone who wants to dive takes professional certification. Unlike the popular belief, you don't need a certificate to dive anywhere, except a few adventurous diving sites. But most of the tourist sites are easy to explore, even for a new diver. Exploring the waters and the life underneath refreshes the mind and allows a person to appreciate nature's beauty and fragility.
If you are not sure where to go for a dive and how to find safe diving spots, here are ten best sites that should be in everyone's 2022 diving list.
Ko Tao, Thailand
Not just one, but Thailand has numerous diving sites that are a heaven for divers. To name a few of them, Phuket, Ko Tao, Similan Islands, and the Surin Islands are the top of the list. Here in Thailand, tourists can dive almost everywhere, but the best options, especially for new divers, is Ko Tao and Similans. What makes Thai waters stand out among all other options is that they are relatively cheaper to visit, if you are an international traveler. In addition to this, if someone wants to learn scuba diving, Ko Tao is the place to go.
All these sites have food shops and diving equipment shops for purchase and rentals. However, the best idea is to buy the best quality diving gears from a reputed brand such as Greatever and reuse it on every diving trip.
Sipadan, Malaysia
Without any argument, Sipadan is among the top five diving sites of the world that lets the divers experience the best of marine life. Here they can see a wide variety of turtles, dolphins, sharks, coral fish, and many other sea creatures.
Hawaii, USA
Hawaii is the diver's heaven with everything that a person on a diving trip can wish. These Hawaiian Islands are well-known for their exotic sea life. Diving with the seals, Manta rays, and turtles is common, as well as it is possible to come across whale-sharks or humpback sharks while diving between December to May.
Gili Islands, Indonesia
The Indonesian Gilis have recently gained attention and well, for obvious reasons. The coral reefs and blue water of the Gili islands make the perfect vacation spot. These reefs here are much more intact and well preserved as compared to other sites. It is located next to Bali, but a lot cheaper than it, making it ideal for the tourist on a budget.
Boracay, Philippines
Boracay, the tropical heaven for no surprising reasons, is an unusual diving site. Here you will see eels as well as clownfish with a vibrant and live reef system. Not only the underwater life, but the nightlife at Philippian beach is also once in a lifetime experience. It means it's double fun in one single trip.
The Blue Hole, Belize
The Blue Hole is one of the most admired sites in Central America, and searching it online would tell why. The blue hole is a huge sinkhole in the sea which came into limelight after an international diver, Jacques Cousteau called it the 'best diving site of the world.'
This sinkhole is nearly 125 km deep and 300m wide, in diameter. The clear water allows a diver to see into deep oceanic layers, and some of them can even see reef sharks, hammerhead sharks, and bull sharks that are common here.
Fernando de Noronha, Brazil
A rather commonplace, Fernando de Noronha, is another favorite of divers. There is a huge variety of marine animals and flora in these South American waters. It also has the number one wreck site of the world- Corveta V 17. Most of these sites are not open to everyone and only host a specific number of people. It is a good option if you want to be alone or spend time with a loved one during a diving trip. But make sure to pack professional Greatever diving equipment and reserve your place before traveling to Fernando de Noronha.
Great Barrier Reef, Australia
The Australian reefs need no introduction as they are the longest reef reserves in the world. Coming here is every diver's dream, which is why this place greets more than 2 million tourists annually.
But coming here has its own repercussions, for example, the climate here is unpredictable. It may cost more than other diving sites, and only certified or experienced divers can explore its real beauty. Still, it is among the top suggestions for the 2020 diving list.
Micronesia
The land of the tropical beaches, Micronesia, is a small country with active sea life. There are many eminent sites such as Blue Wall, which adds this country to the top tourist spots in the South Pacific region. In addition to this, many WWII wrecks might excite a diver. Overall the tourists turnover here is considerably lesser than in other countries. So yes, if someone is looking for an exclusive diving destination without a rush, Micronesia is the place to try.
Red Sea, Egypt
The red sea is an unusual diving site that many people don't know about. The 'red' sea has clear water with visible reefs underneath. The perfectly warm water temperature allows every diver to enjoy these waters. There are many spots open for diving, some of which are Sharm El Sheikh, Thistlegorm, Sha'ab Abu Nuhas, Ras Mohammed, etc.
What to pack for a diving trip this year?
Irrespective of whether you are a new diver or a certified professional, there is no harm to add these up-listed sites in your 2020 diving list. All of them offer the best diving experience. However, some of these might not be open all year, so gathering information and planning a trip months before is a preferred suggestion.
While choosing this year's destination, it is necessary to get a good set of diving equipment to ensure underwater safety. Human bodies are not well-designed to stay and live underwater, so the special diving gears help them safely explore the waters.
Following is a short list of the basic equipment required for any diving trip.
First in this list is a mask which is essential for everyone who wishes to dive into the water. It should ideally fit the face but leave some space in front of the eyes, allowing to see underwater. It also has a nose pocket, which helps to balance the air pressure inside the mask, especially during deeper dives. There are so many options available in terms of size, brand, colors. Make sure to buy the one that fits the face best. Also, there is an option to buy swim goggles if you don't wish to go deeper. Buy one with UV protection coating, adjustable strap, and leak-proof design for the best experience. Greatever's HD Panoramic, anti-fog goggles is one worth trying option that is comfortable and durable.
A basic snorkel seems like a curved tube attached to the mask, which helps in breathing while a person floats under the water surface. However, there are available in various modifications, sizes, and designs, but for the first-timers, the basic version also works fine. The primary purpose of a snorkel is to conserve the air for breathing for which you need something that is 'comfortable.' Usually, big size snorkels are challenging to manage, so look for an easy-to-use basic snorkel.
Using fins while diving allows the diver to float smoothly underwater. The movement in water is challenging and different from regular swimming as there is lots of pressure, density, and resistance, which increases as you go deeper. While looking for diving fins, find for a perfectly fitting pair that doesn't hurt the feet and is easy to slip on or take off. Typically, the choice of fins is based on comfort and personal preference, as there is a wide variety of sizes, styles, and designs available. For example, Greatever diving fins come with adjustable straps that facilitate different foot sizes and shapes, making it a product that could be reused again and again. Its anti-deformation, lightweight, and corrosion-resistant design make it easy to carry while traveling.
Wearing a suit reduces the chances of water throbbing against the body. These suits are made with spandex-like materials or neoprene rubber, which sometimes come with a fleece lining to protect the skin. Having a suit is necessary to ensure skin safety, allowing you to enjoy a comfortable diving experience.
The final word
Regardless of which place you choose for this year's vacation; it is necessary to buy and pack all essential diving gear beforehand. Many of these diving sites also have nearby shops, but they might not have quality products or sell you at a much higher price. Meanwhile, you can order your required gears from any reputed vendor online such as Greatever. Lastly, enjoy your vacation with unlimited fun at beaches, underwater exploration, exotic food, and make this year memorable. Happy Holidays everyone!