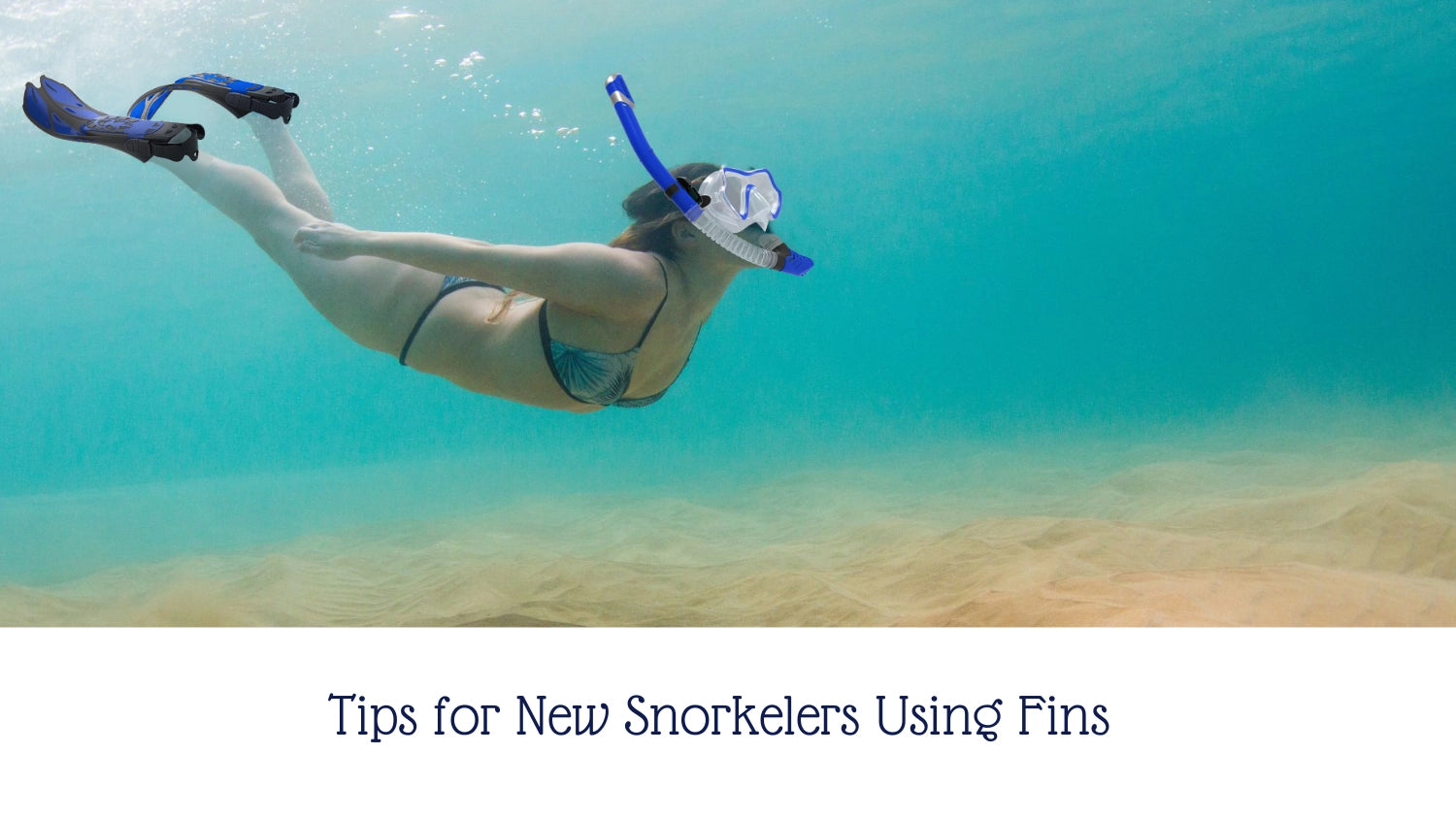 Tips for New Snorkelers Using Fins
If you are planning for snorkeling or scuba diving, you would surely need some necessary swimming gears and what you need the most is "fins". As everyone already knows, fins are available in different sizes, shapes, and colors. Not all of them help in smooth snorkeling, it is obligatory to know how to pick the right one.
Contrary to popular opinion, it is not necessary that large size fins work better than smaller ones. The variety in finds actually makes it easy to find the right choice of fins for snorkeling. Here are basic tips for snorkel fins purchase and which type of fins are better for first-timers.
Basic snorkeling gears list for beginners
The first thing to search while planning a snorkel trip is the specialized gears. There are three most important tools that are required; mask, snorkel sets and snorkel fins. Each one of these is available with different variations and anyone can pick the one that works best for his needs and budget.
1.Mask
Whether or not you are a beginner, a smart fit, good quality, and comfortable mask are required to make the visual experience of snorkeling better. Wearing a mask helps to look around and experience underwater experience. If it gets foggy or is unclear, it could ruin a snorkeling experience.  Check the following while buying a mask.
Lens;

typically, impact-resistant or tempered glass lens are way better than plastic lens. The plastic lens is easy to get scratched and glass lens don't scratch at all. They are easy to clean and more durable than plastic ones.

Anti-fog lens

; Prefer a fog-treated as it doesn't let fog to form and hence improves vision while snorkeling even with fluctuating temperature.

Skirt;

all good quality masks come with a silicon skirt that hangs down between lens and the suction area to the face. This skirt ensures an airtight suction and water cannot enter into the mask.
2.Snorkel
Snorkels are available in different types such as classic, semi-dry and a dry snorkel. This difference is based on the top opening which regulates the entry of water. On the basis of snorkeling experience, find the best among these three.
Classic;

a classic snorkel typically has a full opening through which you can breathe while floating in the water. Most people prefer a classic snorkel but the only problem in this is that it is not helpful for deeper waters. Also, if there is a wave, there is no way to stop water from entering the mouth. Hence, this is not suitable for all beginner level snorkelers.

Dry;

these snorkels come with a top valve to control water entry. But shutting the valve also stops the entry of air. This dry snorkel best suits a submerging experience.

Semi-dry;

this type of snorkel comes with a partly closing valve at the top. So it prevents from water entering but doesn't stop the airflow. This is the most user-friendly type of snorkel among all three.
3.
Snorkel Fins
The snorkeling gear list is not completed without a pair of fins. Snorkel fins allow moving in the water, without causing stress and hardness. They come in different colors, sizes, and shapes which allows the user to pick the one that he likes the most. Here is the basic difference between snorkel fins types and their benefits.
Adjustable and non-adjustable fins- usually, fins come in two types one is the closed heel and the other is the adjustable heel. Closed heel fins completely cover the foot but they are not adjustable so one has to find the right size as per their foot. On the other side, adjustable fins can be corrected as per foot size but the foot is not fully covered.
Long and short fins; fins come in two sizes, long and short. Short fins are a better choice if you have to travel with them. They are portable, easy to use and carry.  The only drawback is that they are not as strong for shallow water snorkeling. Larger fins are difficult to carry and travel but they are more powerful than shorter fins. For causal snorkeling, short fins are better and for deep diving, long fins are more practical.
Are Scuba Diving and Snorkeling Fins Same?
Many people don't know that every water-based activity requires different types of equipment such as fins. Also, scuba diving fins are not the same as snorkeling fins. Scuba diving with snorkeling fins is not easy and vice versa. It suggests knowing the basic differences between fins so that one could pick one easily. Here is a table that could help to differentiate between snorkeling fins and scuba diving fins.
Features

Scuba Diving Fins

Snorkeling Fins

Length

Longer in length

(25-30 inches)

Shorter in length

(15-26 inches)

Shape

Streamlined

Basic

Convenience

Portable but not travel-friendly

Portable and travel-friendly

Usage

Requires practice

Easy to use

Design

Stiff and thick

Full feet or open heel

User-friendly

Difficult for beginners

Ideal for beginners
How to Pick the Right Snorkel Gears?
It is necessary to select the right type of snorkeling gear so that your under-water experience becomes memorable. One should consider many things while making a decision on selecting the right snorkel, fins and face masks. Here are some tips to buy snorkel gears for beginners.  
Buy a set or buy every gear individually. A snorkel set contains all basic things in it. But you can also buy each one of them separately.
The price range of snorkeling gears varies from inexpensive to extremely expensive tools. If you are following a fixed budget, find all possible options in that range. Cheap snorkel equipment is usually substandard while superior quality gears are slightly pricey.
The snorkeling set could be re-used again and again if you buy durable gears. Cheap priced plastic made gears don't last for long. So, look for silicon and glass-based equipment for durability.
Pay attention to the fitting and do not buy something that doesn't fit you. Snorkels, masks, and even fins come in different sizes and fits, that's why look for something that is comfortable in use and fits your body.
What are the best options in snorkel fins?
Fins are a necessary snorkeling tool and a good pair of fins can make your trip enjoyable or a complete disaster. For example, the expert tips for snorkel fins suggest buying the one which fits the user's feet. Otherwise, the fins would slide away and underwater movement would be impossible.
Check this table below for top choices in snorkeling fins.
Best Snorkel Fins to Try

Brands

U.S. Divers Proflex II Snorkel Fins

 

Cressi Palau Snorkeling Swim Fins

 

Atomic Aquatics Full Foot Splitfins

 

 

Size

Long sized

Short in size

Long in size

Short in size

Best for

Powerful, best for experienced users

Powerful, best for experienced people

Powerful, best for experienced people

Powerful, non-slippery, best for beginners

Main feature

Comes with side vents for taking long strides by swimmers

Moderate design, mostly used in water sports

Comes with long, streamlined, split sides

 

Double channel drainage design, no deformation no cracking.

Portable or no

Not travel-friendly

Portable, lightweight and easy to carry

Lightweight and portable

Portable, user-friendly and lightweight

Size variation

Different sizes available

Different sizes available

Different sizes available

Different sizes available

Design

Closed heel fins

Open heel and adjustable strap

Full foot closed

Open toe, adjustable strap, and removable shape holder and quick release buckle

Price

Reasonable price

Slightly expensive

Extremely expensive

Reasonably priced
Top recommendation- Greatever snorkel fins (Model 2020) 
Considering the top brands of snorkel fins, our recommendation is to try Greatever snorkel fins without second thoughts. These fins are manufactured on a scientific design that requires minimum force and is completely fatigue and cramps free. The material used to make these fins is comfortable for feet and breathable. The online tips for snorkel fins selection emphasize finding fins with adjustable side straps and fortunately, Greatever snorkel fins come with these customized straps fit every foot shape. It is travel-friendly and its unique open toe and mesh inner makes it 10 times more comfortable and durable than all other.