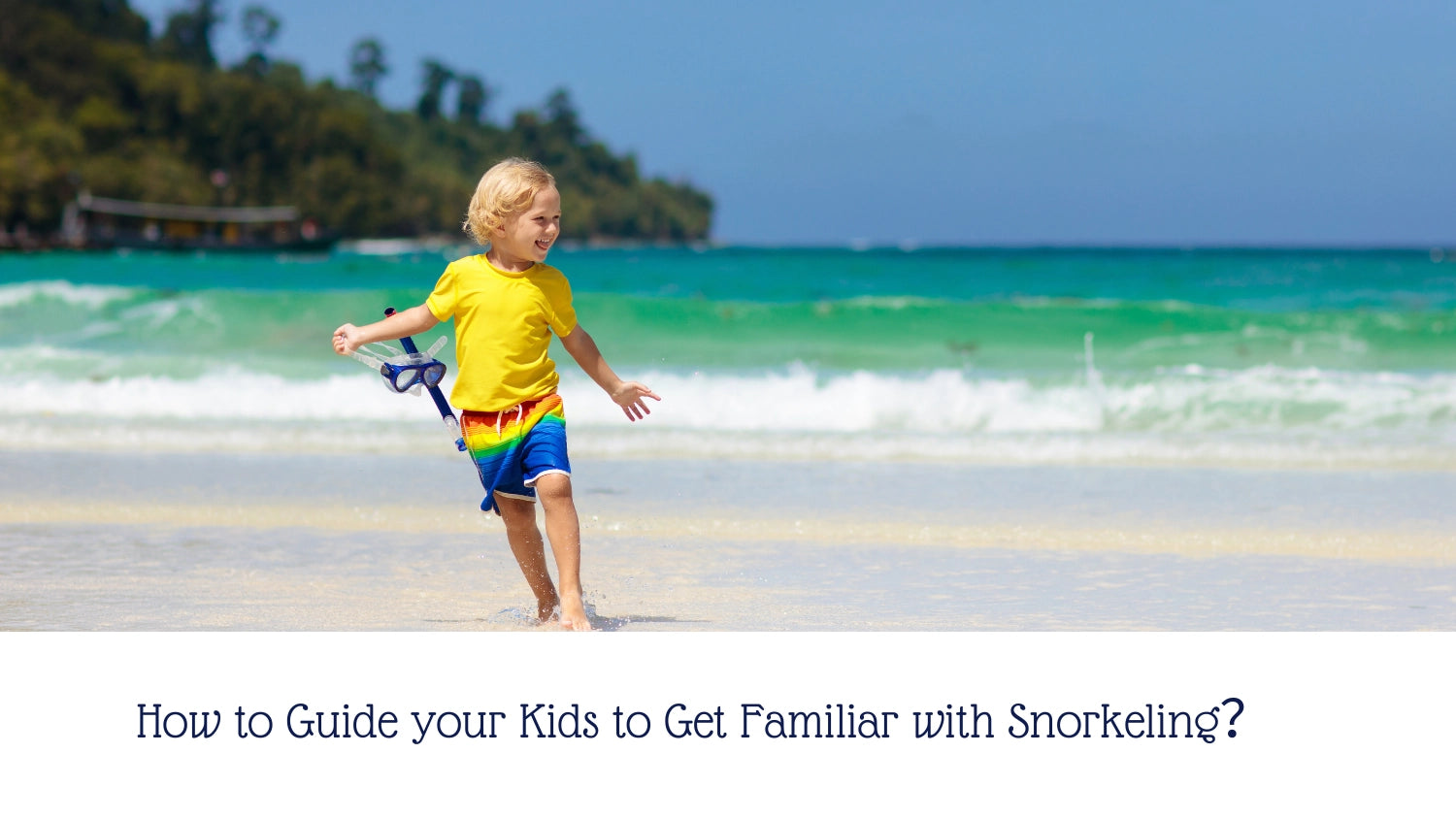 How to Guide your Kids to Get Familiar with Snorkeling?
Description:Getting kids to dive properly is something we need to focus on and certainly take advice from
Summer is the best time to spend time outdoors, near waters with friends, loved ones, and family. These summer vacation could be made memorable with any water-based activity like snorkeling or diving. Contrary to popular assumption, snorkeling is not just confined for adults; it is a delightful sport for children of all ages. In general, most children love water-related things; they like to splash water in the pool, build water pool for the family, puddle in the bathtub pretending that they are swimming, and whatnot. Water is an integral part of everyone's life, and for the children, it could be an entertaining thing too.
Snorkeling in the open water is an amazing experience and becomes more fun when done with the family. It is hard to imagine the excitement and thrill that children feel when you tell them about the 'under-water world' and what they could find there. So, it is good to teach your kids snorkeling or take the whole family out for a summer snorkel venture.
Right age to teach snorkeling to a kid
There is not any specific age to learn snorkeling. If a child loves water and is eager to learn, it could start from the age of four or five years of age. But some children naturally need more time to learn it and get comfortable with it. Irrespective of when do they learn, the practice could make them more comfortable underwater. Additionally, swim gear such as lifejackets or floating suits during training can help them to learn better.
Getting started with snorkeling
The most important thing before training children for snorkeling is to know their interests. It is necessary to talk to them, explain all the details on snorkeling, and at the end, ask them if they will be interested in learning snorkeling. It is better to talk to them convincingly. The images and videos taken from the Internet can also explain the concept of snorkeling and what they would do once they learn it.
Next, snorkel training can not be completed without good quality snorkeling equipment. Some of the gears are available in different sizes, which could be used by the children. If you aren't sure on which snorkeling gears are helpful or children, try Greatever snorkeling gears. You can shop them online without stepping outside the house.
How to familiarize children with snorkeling gears?
One good thing about snorkeling gear is that they come in vibrant colors and catchy designs. Children are fascinated with these gears' outlook, so it could be used as a plus point for teaching them about these tools.
Before going on an actual snorkeling trip, it is better to take them out to the ocean side, teach them the basics about water. It is best if they know swimming beforehand, but even if they don't know it, snorkeling doesn't necessarily need it.
Introduce these snorkeling gears to the kids and better if you leave them with these gears. Let them explore their purpose in a bath or a swimming pool.
 For example, start from the face mask. Tell them how to wear it properly and why is this face mask necessary while going underwaters. Adjust the mask strap, ensuring that no hair is caught between it. Try to get them wearing the mask and explore the water i.e., in a pool to become comfy with its usage.
 Once they learn the purpose of wearing a mask, attach the scuba snorkel to it. There is no need to thread it right now; hold it to tell how they would keep it under the water.
You can also take help from various games and activities such as place some toys at the bottom of a shallow pool and ask children to pick these toys while wearing their snorkel. This way, they will practice swimming with mask and snorkel in an enjoyable way.  
Best places to snorkel with your kids
Although some snorkel sites are safe even for the first-time snorkelers, it is better to practice it somewhere less risky. Lakes, for example, are an excellent option to explore the water and practice snorkeling even if it is your child's first time.
If you are at an ocean, pick a calm and noise-free area where you and the child don't get distracted by people and their activities. Don't forget to take all necessary gears like a scuba snorkel, to enjoy floating on the water.  Lastly, don't forget to watch for security snorkeling with your family; after all, safety comes first.
Tips for training children for snorkeling
While we want children to enjoy anything that they wish to, but their safety is our primary concern. For security snorkeling, understanding the under-water movements is necessary, but those who already know swimming need only a little training.
It is better to teach swimming to the children at an early age so that they become avid swimmers within a few years. Otherwise, snorkeling training may need more than usual time. Whole this process requires patience, stamina, and commitment from both ends. Here is a quick list of tips to make your kids learn snorkeling fast.
Probably you have never noticed, but children like to be a part of the 'adults talk' in every decision. They want to be considered as an equal half with a valid argument and a right to be heard. Before considering a family vacation, bring this idea to your child/children and know their interests and responses. You can also ask them to suggest places where they want to go and explore the waters.
Take your children out for scuba snorkel shopping. Let them pick their favorite colors and designs in these gears. Buying the equipment as their liking will increase the chances of accepting these gears and taking care of them even after using them.
Make sure that the snorkeling gears that you are purchasing perfectly fit and are of superior quality. For home practice, you can consider the low pricey options but for an actual snorkeling vacation, prefer buying gears from a reputed company such as Greatever and in the right size and fit, especially in masks, fins, suit, etc.
Give the snorkeling gears to the kids for taking care of them. Handing over their belongings gives them a sense of responsibility, which builds their connection with snorkeling.
If you plan a vacation for summer, the best idea is to hop in the pool with your kids and teach them how to use this equipment. Telling them about each of the snorkeling gears, how to use it, why it is essential, what happens without it, etc., will help them understand the purpose and usage of these gears. One can start with one thing at a time, such as start with a mask, then snorkel, then finally the suit and fins. Children, in general, have a shorter attention span. The progressive way to learn all this will catch their attention and build up their interest in this stuff.
It is necessary to hold exposure protection for every child. Even an adult user rapidly loses body heat once inside the water, and children are likely to get cold faster than adults. However, they may be reluctant to admit it or share it with you because of all the fun that they are having in the water. To overcome this, introduce them to a neoprene suit that slows down the heat loss process. Pay attention to the child's body responses; if he is shivering, it is time to take him out of the water immediately.
Take out some time to explore the vacation area with your child. Having a walk to the beach telling them about the nearby places is the best idea. The first exposure of an ocean for a child could be fearful. Hence it is necessary to make him feel familiar with the deep waters before asking him to join you for a snorkel.  It could take more time than your expectation as this whole thing could be too much for a child to process.
Tell your child about things that he would see underwater. Show him different varieties of fish online; you can also prepare an indentation chart for him. Security snorkeling is necessary, which is possible by teaching the child about what to touch and what not to touch in a deeper layer. Lastly, in a polite way, communicate with the dangers and risks that may show up, such as which type of fish he can touch and which kind of fish or coral would expose him to infection.
Never leave your child unsupervised during the snorkel. During planning a vacation, buying the accessories, exploring the area, or making plans, don't exclude yourself from the plans. Although focusing on the child is a good thing but make him believe that you will be with him during all these activities and witness all the amazing things that he would see in the water.
During the trip, before and after the snorkeling, don't forget to appreciate your child even for the smallest thing. He must know that he is capable of learning everything in life, and snorkeling is probably just a tiny thing. The best is to reward him with something that he would like.
Spending time with family and introducing children to snorkel is a great way to create a bond. Activities like these are not only good for physical health but also necessary for a sound mind. This entire process will make these children remember their childhood filled with amazing family trips. Eventually, it will help him to build positive relations with everyone in his life.